Accreditation Statement
The University of Central Florida is accredited by the Southern Association of Colleges and Schools Commission on Colleges (SACSCOC) to award degrees at the associate, baccalaureate, master's, educational specialist, and doctoral levels. UCF also may offer credentials such as certificates and diplomas at approved degree levels. Questions about the accreditation of UCF may be directed in writing to the Southern Association of Colleges and Schools Commission on Colleges at 1866 Southern Lane, Decatur, GA 30033-4097, by calling (404) 679-4500, or by using information available on SACSCOC's website (www.sacscoc.org).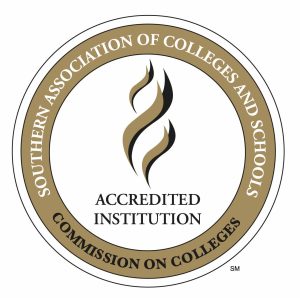 SACSCOC Correspondence
UCF was initially accredited in 1970 and was last reaffirmed in 2016. UCF's certification of accreditation from SACSCOC is located here. Additionally, UCF completed the required Fifth-Year Interim Report with no follow up required in December 2022.
All correspondence with SACSCOC on behalf of UCF must be submitted by the president or the SACSCOC liaison. Please direct all inquiries regarding matters of UCF's SACSCOC accreditation to:
Timothy Letzring, JD, EdD
UCF SACSCOC Liaison
Vice Provost for Academic Affairs
Tim.Letzring@ucf.edu
Complaints
Should members of the public wish to file a formal complaint with SACSCOC concerning the University of Central Florida, parties must follow the Complaint Procedures Against SACSCOC or Its Accredited Institutions policy. Complaints must be tied to specific standard numbers from The Principles of Accreditation: Foundations for Quality Enhancement. SACSCOC's expectation is that contact occur only if there is evidence to suggest significant noncompliance with a specific requirement or standard.
General inquiries about UCF, such as admission requirements, financial aid, educational programs, and so on, should be addressed directly to the appropriate UCF department and not to SACSCOC. While UCF faculty, staff, and students are encouraged to seek informal resolution to their concerns, if unable to achieve closure, employees may follow appropriate university grievance procedures to request additional redress. Students may likewise file formal written complaints by following the appropriate procedure posted on the UCF Student Complaints and Appeals website.
Please see APQ's programmatic accreditation webpage for information on UCF's programmatic accreditation.